Finally we get to see the CW's logo.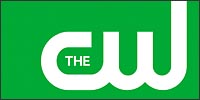 The CW, for those that don't know, is the coming together of the WB and UPN.
We were glad to hear that Gilmore girls will still be on Tuesdays at 8 eastern, followed by the new comer Veronica Mars (a show I'm starting to get hooked on).
While we Gilmore girls fans are glad to hear we won't need to rearrange our week to watch Gilmore girls, others are glad to hear their shows made the cut to be moved over to the CW and continued for another season. Well congratulations if your show made it.
Here's to another year of great television.