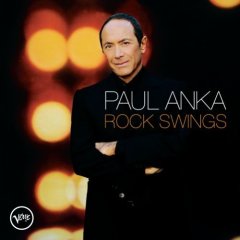 Paul Anka was born July 30, 1941, in Canada. At age 14 he recorded his first single, "I Confess." In 1957 he went to New York City where he auditioned for ABC, singing a lovestruck verse he had written to a former babysitter, Diana Ayoub. The song, "Diana," brought Anka instant stardom as it rocketed to number one on the charts.
His talent went beyond singing, writing Buddy Holly's giant hit, "It Doesn't Matter Anymore"; the theme for Johnny Carson's Tonight Show; Tom Jones' biggest hit record, "She's A Lady"; and "My Way," Frank Sinatra's signature song. (source: Wikipedia.org)
He now has a regular gig as a lounge singer in Vegas.
I checked out his latest album. It has a really cool cover of Nirvana's "Smells like Teen Spirit". I can see why Lorelai likes him.
You can listen to samples of the CD at Amazon.com